Label: Мелодия (Melodiya)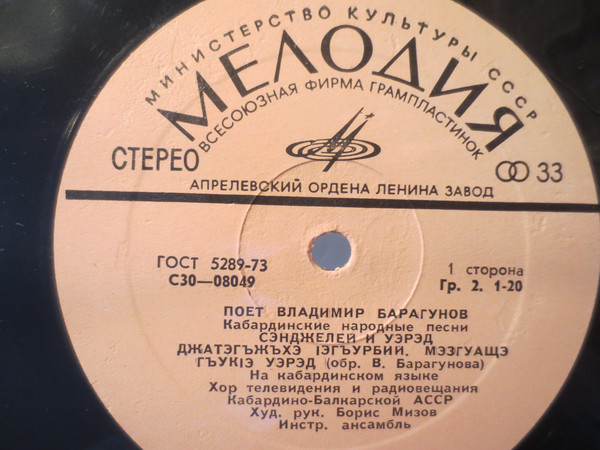 Format: Vinyl, LP
Country: USSR
Released: 1976
Country: USSR
Artistic director: Boris Mizov. Kabardian Folk Songs (arr, Vladimir Baragunov)

БАРАГУНОВ Владимир, хор радио и телевидения Кабардино-Балкарской АССР, худ. рук. Б. Мизов. Кабардинские нар. песни (обр. В. Барагунова) | BARAGUNOV Vladimir, Radio and Television Choir of Kabardino-Balkar ASSR. 
Tracklist 
А1 Сэнджелей И Уэред  (Sanjalay yi wered)
А2 Джатэгъжъхэ Iэгъурбий   (Djategjua igurbiy)
А3 Мэзгуаще  (Mezguashe)
А4 Гъукi Уэрэд  (Guki wered)
Arranged by Baragun Vladimir

В1 Нысашэ Уэрэд   (Nisashe wered)
В2 Ашэмэз И Уэред  (Ashamaz yi wered)
Backing Vocals – Анатолий Отаров, Валентина Сосмакова  (Anatoli Otarov, Valentina Sosmakova
В3 Удж Хъурей (Udzh Khurey)
Arranged by Baragun Vladimir
 
Choir –  Radio and Television Choir of Kabardino-Balkar ASSR | Хор – Гостелерадио Кабардино-Балкарской АССР.
Artistic Director – Boris Mizov Б
Vocals – Baragun Vladimir (Владимир Барагунов)