When Moscow underground electronica sensation Moa Pillar travelled to the Caucasian republic of Kabardino-Balkaria to make music with the locals, the results were always going to be hard to predict. But the unlikely collaboration made for a fascinating documentary. 
The Calvert Journal -- Battered by recent wars, Kabardino-Balkaria in the foothills of the north Caucasus mountains is off most tourist radars. If the local Circassian people are thought about outside the economically decimated republic, it's mostly in the context of conflict in news bulletins. Independent Russian film collective Stereotactic Moscow were keen to engage differently. They flew a crew down to capital Nalchik for an experiment in cultural dialogue, to test if genuine collaboration between Circassian folk musicians and Muscovite electronic artist Moa Pillar could be possible. What resulted is documentary Bonfires and Stars, a fascinating insight into the thorny issues of cultural preservation and appropriation. Stereotactic's co-founder and producer Pavel Karykhalin and director Sasha Voronov spoke to me from their Moscow studio via Skype about shooting the film, which recently premiered at Swiss doc festival Visions du Reel.
"It's really beautiful, but no-one gives a shit," Karykhalin said of Circassian music and its obscurity outside the region. "The people who are deeply, deeply interested in music, real searchers or diggers might know something about it, but that's it. Back in the day when I was shooting snowboarding films I went to the Caucasus so many times, and even I never knew about things like this. A lot of people have just never been there. The Caucasus is some remote territory connected in the media mostly with Wahhabism or patriarchal traditions. People have all these stereotypes about it but really don't know anything." 
Bonfires & Stars | Trailer from STEREOTACTIC on Vimeo.
The bridge to Kabardino-Balkaria's musical world came in the form of a man called Bulat Khalilov. A radio show host in Nalchik who professes no time for the endemic "shitty" pop music in his town, he used to dress in goth-style black and listen to Nordic industrial music before becoming frustrated at its lack of grounding in his own roots. That's when he discovered folk. He is now intent on recording Circassian music before it disappears, a project Stereotactic were alerted to via his posts on Russian open-source platform Sygma. "Bulat's focused on capturing this tradition and using modern technology to throw it into the media field so someone will pay attention and get to know that this exists over there, and is still there," said Karykhalin.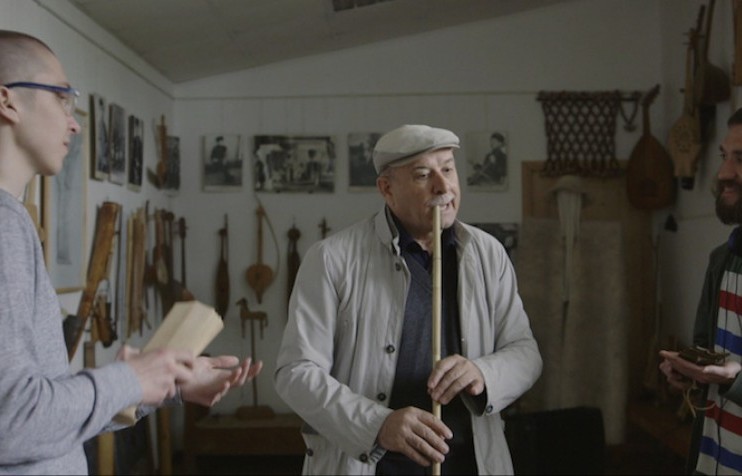 To help ignite interest back home among Russian youth in this folk tradition, Stereotactic enlisted Fedor Pereverzev, who goes by the artist name of Moa Pillar, as the "trigger". The 24-year-old from Moscow describes the dark techno he produces as "spiritual bass" and often incorporates folk and tribal samples. He had never worked with Circassian music. Karykhalin said: "We were thinking, what is going to happen if we throw a guy from this modern Moscow context into a really deep-rooted traditional context, and let him try to get really in touch with it? Let's do it and just watch."   

We accompany Moa Pillar and crew in Bonfires and Stars after they touch down in Nalchik, from a tentative first cup of tea at Khalilov's house to collaboration sessions with folk band Zhu. Their host introduces Circassian musical traditions in stunning mountain terrain. We see the making of an instrument string from sheep intestine, the playing of the kamyl (a shepherd's flute used in ritual music often played while bullets are being removed from injured fighters) and hear the epic Nart sagas being rapped. "We didn't do any kind of location scouting," said director Voronov. "While this shepherd's herd was floating around eating grass they were just sitting there singing together, where they've been performing these songs for hundreds of years. You would hear some special acoustics because of the trees and the rocky walls around, and this is just how it was. It's the natural environment for that kind of performance and we tried to save it as much as possible." 
Bonfires and Stars is far from a naive or patronising pastoral vision. In improvised collaboration sessions between Moa and Zhu, a real tension between modes of working starts to bristle; between passed-down skills of analogue harmony and a post-modern digital approach unbounded by rules that reformulates what others have achieved before. The diminutive Moa, visibly nervous but plucky, prepares his laptop with speakers beside a roaring evening fire to play back for the first time to these openly curious but hardened men how he's mixed their tradition, inspired by its epic war themes. It's not a task for the faint-hearted, and the anticipation is electric. Wiry, ever-scrutinising middle-man Khalilov looks the most uneasy of all.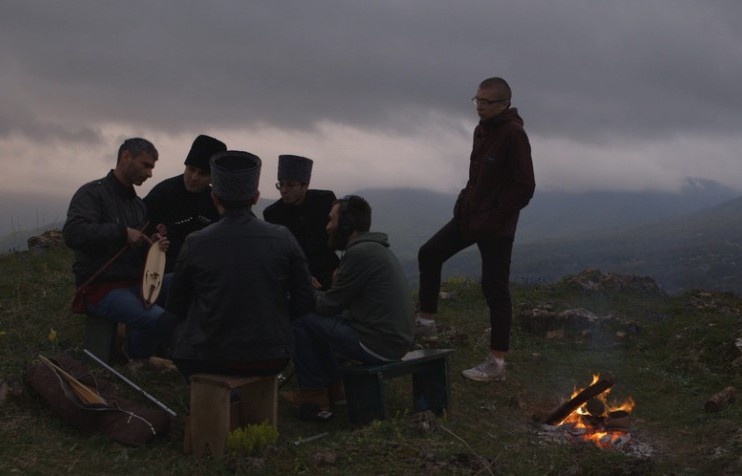 Khalilov is skeptical about the collaboration from the outset, and adamant that much deeper engagement with Circassian tradition will be required than simply commandeering files and superimposing a beat. He expresses reservations about the embellishment of folk, as if it were in need of polishing, and about the idea there is anything remotely spiritual about laptop sampling. But he puts his uneasy trust in the visitors, with the words: "You haven't come here to meet dumb natives, borrow their groove, or seek enlightenment from shamans. You don't have that post-colonial mindset. So then why not? It's an interesting experiment." Voronov gives him the task of recording his thoughts alone at the end of each day in a video diary. Only in the last instalment, tongue uninhibited by a boozy wrap dinner, does he allow himself a brutally honest monologue on his true thoughts on the experience, and an excerpt from this opens the film. 
For all involved, the collaboration was buoyed by good will, but far from smooth. "The conclusion we came to was that we were witnessing the maturing of a man," Voronov said of Moa and his trial by fire. "It was really tough for him. He was right in the middle of it, and if these people wanted to say that it was bullshit, they would say it. Though we were very warmly welcomed everywhere, with tables and wine and would sit all together, still you felt that difference and distance, and could feel that those contexts are very far from each other." The readily flowing alcohol brings out real honesty on film on more than one occasion. "At some point everyone was pretty high — and then the real talking started," he recalled. "You can see Moa's a young guy from the city, and is so far from this kind of man-talking. He had a lot of this." 
Whether the experiment failed musically is a matter for fierce debate. But it's exactly the implication it may well have that makes Bonfires and Stars such an insightfully frank take on the meeting of cultures. The most poetic words on appropriation come from a Circassian musician, who says to Moa during a nighttime session: "When you come to a forest to cut down some trees, you can let the first two trees fall in any direction you want. But the deeper you go in, the more you'll have to think before felling a tree. It's the same with folk music. You think you can do whatever you want with it, but then the music starts bending you to its will." Borrowers pay heed.
Source: The Calvert Journal